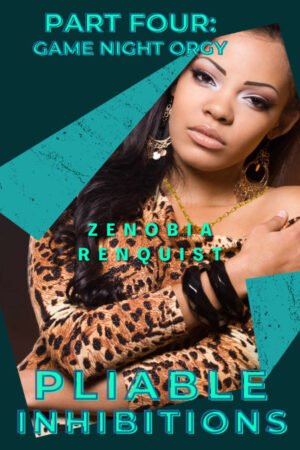 Title:
Pliable Inhibitions Part Four: Game Night Orgy
Series:
Pliable Inhibitions #

04
Genre:
Contemporary
,
Erotica
Themes: Interracial, Mind Control, MFM, FF, MFFM
Length: 10,630 words / 28 pages
Another friendly get together to play sexy games that leave them all satisfied and exhausted.

Emily and Lucas have their close friends over for a lively game night full of laughter and banter. When the night is over, everyone is exhausted and happy. Emily cannot believe how tired a simple board game has made her. She doesn't know that the simple board game was really a sexy game of charades with lots of pleasure as she reacquainted with her friends.

Author's Note: This MFFM Erotica tale contains group sex acts while under consensual mind control.
Also in this series:
Release Date:
July 06, 2023
ISBN13:
978-1-63475-066-0
ASIN:
B0CBLGSCHG
Published by:
DZRB Books