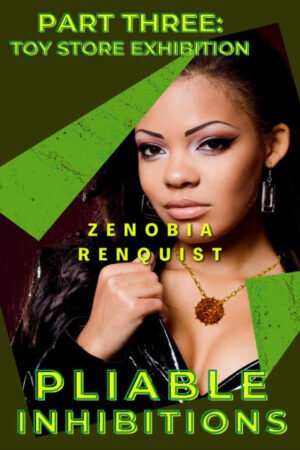 Title:
Pliable Inhibitions Part Three: Toy Store Exhibition
Series:
Pliable Inhibitions #

03
Genre:
Contemporary
,
Erotica
Themes: Interracial, Mind Control, MFM
Length: 11,630 words / 30 pages
Showing the owner how well she plays with his toys is the best way to receive a discount.

Emily needs a dress for the upcoming wedding, and Lucas has the perfect place to buy it—an adult toy store. There is a clothing section, but not the kind of clothing one would wear to a wedding, at least that is what Emily thinks. Lucas talks her into trying on a dress he picks regardless and even showing off the risqué-nature of the dress to the store owner who is willing to give a discount in exchange for a hands-on demonstration of his other products.

Author's Note: This MFM Erotica tale contains sex acts in a store while under consensual mind control.
Also in this series:
Release Date:
July 06, 2023
ISBN13:
978-1-63475-065-3
ASIN:
B0CBLGK1Q2
Published by:
DZRB Books