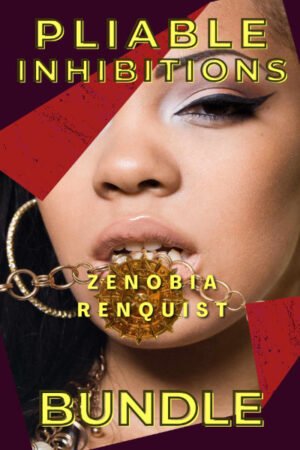 Title:
Pliable Inhibitions Bundle
Series:
Pliable Inhibitions #

6.5
Genre:
Contemporary
,
Erotica
Themes: Interracial, Mind Control, MF, FF, MFM, MFFM
Length: 64,350 words / 167 pages
A marriage in a rut only needs a little mind control and a lot of horny friends to spice things up.

Emily and Lucas are in a rut. With their children away for the summer, Lucas has come up with a radical idea to spice up their marriage—mind control. He makes a bet with Emily that it'll work. She thinks he wasted a lot of money on nonsense. A bet is made and the deadline set to prove mind control does or does not exist.
There's just one thing Emily did not take into account. If the mind control works, how would she even know if Lucas doesn't want her to know? And that's the case. How Emily sees a situation is not how that situation really happens. Get togethers with friends and shopping trips are much more pleasurable than she realizes until it's time for Lucas to collect his winnings.

Author's Note: This Erotica bundle features MF, FF, MFM, MFFM relations, dubious consent hypnosis, and sex acts while under mind control.
Also in this series:
Release Date:
July 06, 2023
ISBN13:
978-1-63475-069-1
ASIN:
B0CBLHCKLD
Published by:
DZRB Books