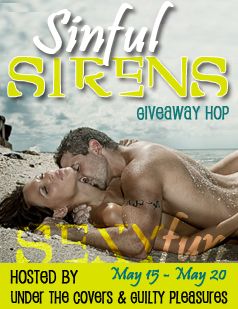 Welcome to my contribution to the Sinful Sirens Giveaway Hop. Click the above image to visit the rest of the blogs involved in the hop. Keep reading to enter my contest.
Prize:
– PDF copy of ERIS (Time Travel Menage)
– PDF copy of TWO of my Changeling Press back list titles (winner's choice)
One winner will receive two novellas and one plus novel and all you need to do to be that winner are TWO simple things:
#1 – Follow this blog either through Email, Google OR Networked Blogs (Facebook).
All three options are on the sidebar in the top three slots under the Sinful Sirens image.
You can join all three (thanks for the support) but that will only count as ONE entry.
If you're already a follower, then you've already cleared the first step.
#2 – Leave a comment with (a) your handle, (b) your name and (c) your email address.
I need your email to notify you if you win.
To avoid bots, put spaces in your email like this zenobiarenquist @ gmail . com
"Handle" is either your FB name if you followed through Networked Blogs or your Google ID if you followed the blog that way. This is so I can match comments to followers.
For those who choose to follow through email, put "EMAIL" for your handle.
Contest is INTERNATIONAL.
Contest ends 20 May @ 11:59PM EST.
Winner will be announced in a blog post afterwards.
SMALL PRINT / CONTEST RULES:
– ENTERING THIS CONTEST MEANS YOU HAVE READ THESE RULES AND YOU AGREE TO ABIDE BY THEM.
– Rules are subject to change without notification or reason given.
– Contest begins 15 May 2012 12:01AM EST.
– Contest ends 20 May 2012 11:59PM EST.
– Winner is final.
– Void where prohibited.
– No purchase necessary.
– Must be 18 years of age or older to win.
– Chances of winning vary widely based on how many people enter.
– Prize is as stated. No prize substitutions or exchanges.
– "Back List" means titles currently available for purchase as of 15 May 2012.
– Only comments that include A, B, and C as stated in Step #2 count as valid.
– One entry per person.
– Winner is chosen using Random.org.
– Winner has until 22 May 2012 at 11:59PM EST to answer the notification email or else they forfeit the prize. No runner-up will be chosen.
– Comments on posts other than the Sinful Sirens Giveaway Hop post do NOT count towards this contest.
– Comments timestamped after the contest closes are invalid.
– D. Renee Bagby / Zenobia Renquist is not responsible for notification emails that go astray due to mistyped or misrepresented email address, mailer daemons, internet wackiness, or SPAM filters.
– D. Renee Bagby / Zenobia Renquist is not responsible for contests held by other authors of the Sinful Sirens Giveaway Hop.