As of 31 May 2023, Trapped Lover (Caveat Emptor 2) — Vampire BWWM Romance, MF — is no longer available for purchase through Changeling Press. The rights have reverted back to the author (me).
The title will receive a new cover and title and be re-released in the coming months.
~ For Reference Purposes ~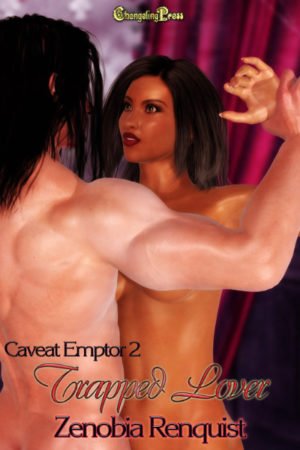 Trapped Lover
[Caveat Emptor 2]
Is Ryver up to the challenge of a charmed and deliciously dangerous lover?
Ryver knows she can never go home again. That's fine by her, since she's with Theron, the vampire she loves. Now living in vampire territory, she's learning more about Theron, and not all of it is good. The more she sees, the more she's convinced that the man she fell in love with, the man who can make her body sing with a single touch, might not be the man she thought he was.
Book Info
Reversion Date: 31 May 2023
Publisher: Changeling Press
Genre: Vampire BWWM Romance, MF
Ebook ASIN: B0078T6FNW
Ebook Release: 10 June 2011
Length: 11,320 words / 43 pages