As of 31 May 2023, Provoked Lover (Caveat Emptor 3) — Vampire BWAM Romance, MF — is no longer available for purchase through Changeling Press. The rights have reverted back to the author (me).
The title will receive a new cover and title and be re-released in the coming months.
~ For Reference Purposes ~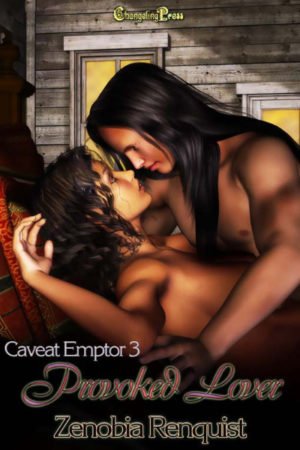 Provoked Lover
[Caveat Emptor 3]
Emotions become confused when sex is the price of his protection.
After an attack that leaves Theron's allies scattered, Sicily finds herself in the care of Lamon, a vampire who looks like he would rather kill her than protect her. The unlikely pair have to become very close because sexual energy is needed to disrupt the spell the mages are using to track Sicily. Emotions become confused as their bodies entwine. Sicily finds herself falling for man she can't have… or can she?
Book Info
Reversion Date: 31 May 2023
Publisher: Changeling Press
Genre: Vampire BWAM Romance, MF
Ebook ASIN: B007EFN8EE
Ebook Release: 22 July 2011
Length: 13,190 words / 46 pages