As of 31 May 2023, Charmed Lover (Caveat Emptor 1) — Vampire BWWM Romance, MF — is no longer available for purchase through Changeling Press. The rights have reverted back to the author (me).
The title will receive a new cover and title and be re-released in the coming months.
~ For Reference Purposes ~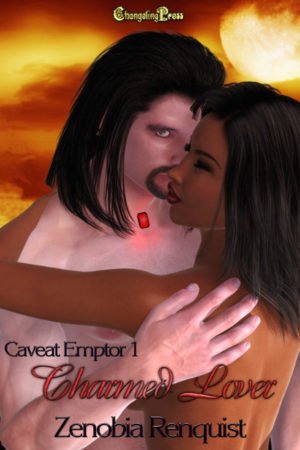 Charmed Lover
[Caveat Emptor 1]
His body is hers to control. Her passion is his to enjoy.
Ryver is one of the many humans who owns a vampire. She purchased Theron for home security. When the magic charms keeping the vampires docile and subservient suddenly start failing, Theron goes from protector to threat. A nationwide, mandatory recall of all vampires is in effect. Ryver is ready to comply, but a night of passion spent in Theron's arms changes her mind.
It's only a matter of time before someone figures out Ryver and Theron's secret. With the threat of mages bearing down on them, Ryver has to decide if she's willing to give up her lover — or her freedom.
Book Info
Reversion Date: 31 May 2023
Publisher: Changeling Press
Genre: Vampire BWWM Romance, MF
Ebook ASIN: B006YFQV12
Ebook Release: 15 April 2011
Length: 10,110 words / 38 pages