As of 31 May 2023, Selected Lovers (Caveat Emptor 7.5) — Vampire BWWM Romance, MFM — is no longer available for purchase through Changeling Press. The rights have reverted back to the author (me).
The title will receive a new cover and title and be re-released in the coming months.
~ For Reference Purposes ~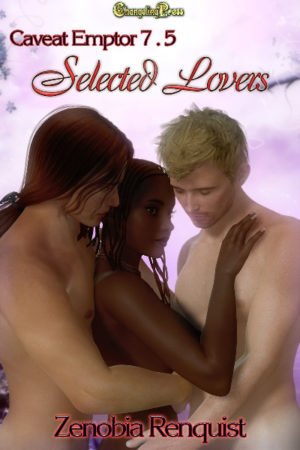 Selected Lovers
[Caveat Emptor 7.5]
Love, like peace, is never easy where two men are concerned.
The war is over, and now it's time to rebuild. Rhea has been chosen at random to sit on a joint council to help decide future relations between mages, vampires, and humans. Jeremy and Colm are appointed her guards. What should have been a simple escort assignment becomes so much more when a spell meant to kill ignites a passionate encounter with Rhea caught in the middle.
Haunted by her desires and craving another threesome, Rhea knows it can't happen. Jeremy is a mage. Colm is a vampire. The men tolerate each other because they're under orders to cooperate. Without another spell to force them, they would never agree to sharing Rhea again. She has to choose — the mage with a satisfying kiss or the vampire with a passionate bite…or maybe the third option she hasn't yet considered.
Book Info
Reversion Date: 31 May 2023
Publisher: Changeling Press
Genre: Vampire BWWM Romance, MFM
Ebook ASIN: B00FDX51SA
Ebook Release: 23 August 2013
Length: 26,100 words / 88 pages