As of 23 February 2012, Acknowledging Meirion — SciFi Romance — is no longer available through Red Rose Publishing. The rights have reverted back to the author (me).
Plans to re-release this title are murky at best, mainly because it was mostly a commentary on the reality TV culture at the time of publication. That culture has mostly petered out. Some major tweaking would have to be made before I put this story back out there again.
~ For Reference Purposes ~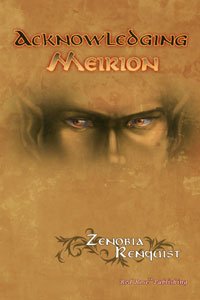 No acknowledgment—but is true love the exception?
Meirion Flatt is one of a handful of people participating in the human version of a nature show for an alien race known as the Fey. Kiar, one of the three men chosen to film her, has awakened emotions in her she hasn't felt since her husband died. She can't tell if the feelings are mutual or one-sided, but she's willing to find out.
Kiar takes great pride in doing his job correctly and that pride means everything to him. The network he works for has a strict rule of no acknowledgment. He's meant to observe, not interact—no matter what. When Meirion sets out to seduce him, his job becomes that much harder.
Two of the universe's most stubborn people are about to clash in a new battle of the sexes. This competition has no rules and neither Meirion nor Kiar is willing to lose. It's her heart versus his pride. Will victory lead to joint happiness or both their defeats as Kiar struggles against… Acknowledging Meirion.
Book Info
Reversion Date: 23 February 2012
Publisher: Red Rose Publishing
Genre: SciFi Interracial Romance, MF
Ebook ISBN: 978-1-60435-043-2
Ebook Price: $2.99/US
Ebook Release: 13 February 2008
Ebook Cover: Merris Hawk
Print ISBN: 978-1-60435-918-3
Print Price: $8.99/US
Print Release: 10 April 2009
Print Cover: Elizabeth Chesterman
Length: Novella (19.560 words/150 pages)
Reviews
You Need to Read/4 out 5!
"Ms. Renquist's sensitivity in writing the scenes between the pair keeps this book from being maudlin, and allows it to have the happy ending readers expect from a true romance. While not a light and frivolous romance, this is definitely a romance, and one well worth reading."
~ Mickey, You Gotta Read Reviews
4 Tea Cups!
"I really enjoyed the characters… Ms. Renquist is an author with an amazing imagination, and reading more of her work will be a pleasure."
~ Lototy, Coffee Time Romance
Excerpt
She walked into the bedroom, stripping as she went. Her body tingled as the moment of truth drew near. She faced Kiar and smiled.
"For the people watching, I'll be addressing Kiar for the rest of the night. Sorry if this is against the rules, but I'm not from your neck of the woods and this is my life. So deal or change the channel."
That said, she walked over, grabbed Kiar's hand and pulled him to the foot of the bed. He didn't fight her, but she knew he wouldn't. He and the others couldn't acknowledge or react, but she could still do things to them.
One of her games—once she got used to Kiar and the others—was moving the men around the room for what she thought were "better" angles. She'd hesitated at first, thinking they would fight her, but they didn't. That's when she learned touching for her wasn't against the rules.
She didn't plan to take advantage of that fact tonight, not anymore than she already had. If nothing happened tonight, she'd consider it for tomorrow.
"You know, Kiar, I'm betting you could mouth an answer to me and the higher ups would never know."
No response, not even the one she suggested.
"Or, you could be a bump on a log for the rest of the night." She crawled onto her bed and sat in the middle. "For the record, you're the reason I was able to do what I did last night. I haven't visited Eric's grave since the funeral. I would purposefully drive the long way so I wouldn't even pass the cemetery."
Nervousness welled up inside her. She took a breath but held Kiar's gaze. Some part of her knew he hung on her every word. "I think I would have done it sooner if you'd been allowed to talk to me, if we'd had more than a one-sided interaction. But that's in the past and this is now."
She leaned back and opened her legs.
A credit to his profession, Kiar didn't even stand up straighter. A quick glance below the belt revealed he wasn't aroused by her display, either. That would change.
"This is a present from me to the man I love. I admit it and know it without any doubt in my mind. This is only for you, Kiar. Everyone else is just along for the ride."
It was her turn to watch Kiar. She didn't want to miss any hint that her admission or display affected him.
* * *
Kiar nearly swallowed his tongue when Meirion touched the bared flesh between her legs. Her declaration of love filled his heart. He wanted to do as she suggested, to mouth the words only she would understand, but didn't. He knew the rules.
No acknowledgment.
Meirion's reaction would give away whatever he did and the superiors would win. He'd expected her to talk to him and demand a reply or possibly kiss him, not this.
She spread herself wide with one hand and circled a finger from her other hand around and around her little nub. Her body quaked at the sensations she felt from that little contact, which made her breasts quiver.
Her nipples hardened and all Kiar wanted was to take each into his mouth as his fingers took over for Meirion's.
"Ah," she said in a breathy voice. "It's always nice to see a gentleman stand for a lady." Her gaze left his and fixed on his arousal.
That only made him harder. He, like the other observers, had adopted human casual wear. The zipper of the jeans bit into him and he enjoyed the pain while simultaneously wanting to relieve it.
No acknowledgment.
Meirion didn't seem to care. She laid back and opened her legs wider once she saw he wasn't as aloof to her actions as he pretended—and he pretended well.