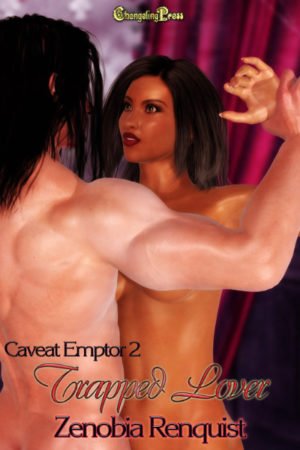 Title:
Trapped Lover
Series:
Caveat Emptor #

2
Genre:
Paranormal
,
Romance
Themes: Interracial BWWM, Vampire, Magic
Length: 11,320 words / 43 pages

Is Ryver up to the challenge of a charmed and deliciously dangerous lover?

Ryver knows she can never go home again. That's fine by her, since she's with Theron, the vampire she loves. Now living in vampire territory, she's learning more about Theron, and not all of it is good. The more she sees, the more she's convinced that the man she fell in love with, the man who can make her body sing with a single touch, might not be the man she thought he was.
Also in this series:
Excerpt
"Are you revived, Theron?"
Ryver screamed and scrambled off of Theron at the sound of Lamon's voice. She tried to cover herself as she searched for a blanket that wasn't there. She managed to pull her blouse closed, but her skirt had twisted, and she couldn't pull it down. She settled for sitting on her knees and hunching over so her blouse covered her crotch.
Theron laughed as he sat up. "I'm free, for the moment. We need to find a way to remove this damned thing." He tapped the charm. "If my powers revived it, I won't be able to use them. That will leave me defenseless. There are too many opportunistic vampires in my household to be that careless."
Lamon said, "I agree. The generals await you." He spared Ryver a glance. "Unless you want to finish."
She hunched over further. How much had he seen? He didn't even act embarrassed or apologetic.
Theron looked over his shoulder at her. "Tell them I will be there shortly."
Lamon left without agreeing or any sign to confirm Theron's orders. At least he closed the door behind him.
Ryver huffed a few times before she snapped, "Doesn't he know how to knock?"
Theron grinned at her. "Why didn't you ask him that to his face?"
She pulled back, her instant anger dulling to mild annoyance tinged with fear. "What? No way. What if he got mad?"
"You have no issues speaking your mind around me. You give me orders and abuse me, as well. You don't worry that I might get angry."
Her heartbeat sped up a little. She asked in a small voice, "Are you angry?" She pulled back with a small whimper of fright when Theron suddenly appeared near her with his face close to hers. "Theron?"
He kissed her nose and then laughed in her face. "You're cute when you're scared. I like it."
"Bad." She reached out and bopped his nose, hoping to shift the mood back to playful. She didn't like being scared of Theron. He was her only ally in a house full of potential enemies.
He said, "I'm a very bad boy. I look forward to how you punish me later."
Release Date:
June 10, 2011
ASIN:
B0078T6FNW
Published by:
Changeling Press