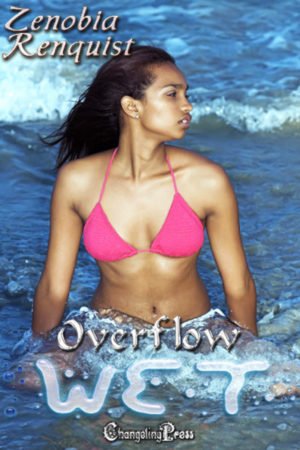 Title:
Overflow (Wet)
Genre:
Paranormal
,
Romance
Themes: Interracial BWAM, Threesome/Thrupple MFM, Magic, Shifter
Length: 25,700 words / 85 pages

Between the devil and the deep.

Lulu and Hotsuma should be enjoying a happy married life but trouble continues to follow them. Masato is back and his reappearance puts Hotsuma in danger again. In exchange for his silence about his return, Masato makes an indecent proposal Lulu cannot help but accept. To make matters worse, someone else has found out about Hotsuma's powers and is willing to end those powers, and possibly Hotsuma with them, if Lulu doesn't meet his demands. She's in over her head and the water is steady rising. Luck and love won't solve the problem this time, but maybe help from an unlikely option will.

Author's Note: Overflow is a direct sequel of Undercurrent.
Excerpt
"I hate you."
"So, is that a vote for putting everything out in the open and getting the ball rolling on the re-imprisonment of Uncle, your divorce, and the downfall of Voda?"
Her shoulders slumped, and she let her hands drop to her sides. He'd won and he knew it. She had no choice. She didn't have the power to go against the Mizuno family to protect Hotsuma and Voda. She probably never would. There was only one thing she could do.
Masato pulled the towel open and let it drop. His gaze roamed over her body as he licked his lips. "Oh, yes. I can be very distracted with you. But not yet." He glanced at the bedroom door. "Looks like Uncle is on his way back."
Lulu couldn't stop her sigh of relief but she bristled when Masato laughed.
"That's not a reprieve, sweetheart. You'll be seeing me again. When you do, I'll have you screaming with pleasure just like earlier." His laughter got louder as he walked back into the bathroom.
She snatched up her towel and wrapped it around her body before running after him and slamming the door shut.
Hotsuma entered the bedroom and frowned at her. "Lulu?"
She forced herself to smile. "Sorry. I tried to swing the door closed it and misjudged my strength. Did the phone call go okay?"
A haunted expression crossed Hotsuma's face. "Fine. The family is stressing about nothing, as usual."
"Get some sleep. You look tired."
"You too." He opened his arms.
Lulu crossed the room and embraced him with all her strength. She welcomed the feel of his arms around her, blotting out the memory of Masato and what he'd done. "I guess we've both had a busy day."
"Yes we have." He sighed and gave her a squeeze before releasing her. "Tomorrow will be even busier for me."
"Let me know if there's anything I can do to help. I am familiar with hotel management."
"Yes, you are, and you know I will. For now, I can handle it. But thank you." He kissed her forehead and then walked to the bathroom.
Lulu wanted to cry out for him to stop. She held her breath when he opened the door and walked in. When no angered yelling started, she assumed Masato had left.
Masato.
A whole-body shiver made her clutch her towel. She needed to find a way to deal with him that didn't involve sex.
Release Date:
November 23, 2012
ASIN:
B00BB2N9UO
Published by:
Changeling Press