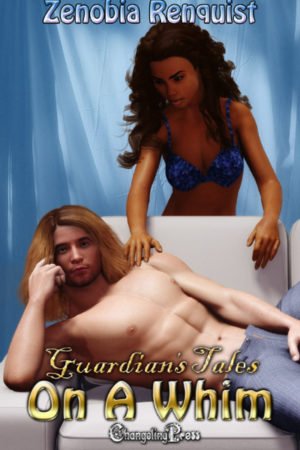 Title:
On a Whim
Series:
Guardian's Tales #

1
Genre:
Paranormal
,
Romance
Themes: Interracial BWWM, Magic, Multiple Partners
Length: 21,000 words / 71 pages

Mortals should beware the whims of gods.

Rosaline never thought she would find a meaningful relationship at an adult party for the denizens of the preternatural community. She came to have fun and flirt with danger while hiding behind the safety of the party's rules. And then she met Sebastian, a demi-god who demands all her attention and satisfies her every need. Even though her head says it's nothing but pleasure between consenting adults with no strings attached, her heart is wondering if this fickle demi-god might actually want to be with her.
Also in this series:
Excerpt
"I do love those heels," Sebastian said as she neared him.
Like last time, his dogs surrounded him. Rosaline walked past the massive beasts to Sebastian's makeshift throne. With a boldness that surprised her, Rosaline put her foot between Sebastian's legs, pressing the toe of her shoe against his obvious arousal.
She smiled at him. "Do you? I think they're too high, but my friends insisted."
He leaned forward, digging in the toe of her shoe further, and smoothed his hand under her thigh. "They make your legs look longer and give your hips a nice swing as you walk. Very enticing."
"Oh? So this –" She moved her foot so the bottom of her shoe rested against Sebastian's hard dick. "– is for me?"
She gasped and rolled her hips when Sebastian buried two fingers deep inside her pussy. He pumped a few times, pulled out, and then showed his glistening wet fingers to her. "Just as this is for me."
"Yes, it is." She could say that with confidence since the vampire hadn't so much as given her a tingle.
Sebastian licked his fingers. She watched his tongue. She wanted to feel it firsthand.
"Something interests you, Rosaline?"
"Your mouth. Specifically your tongue."
"What about it?"
"I'm giving you, and only you, special permission to use your tongue."
Sebastian smoothed his gaze over her body before settling on her face. "You will be a delightful snack that I plan to enjoy the whole evening long."
"I thought you might." She looked around but didn't see an empty space where she could lie down. "Where?"
Sebastian stood then patted the seat cushion. "Right here."
She took his seat. After placing her hands on her knees, she spread her legs open wide. "Like this?"
The heat of his gaze as he looked at her spread pussy had her soaking the seat cushion. He ran his hands up the insides of her thighs. "Very nice."
Release Date:
May 25, 2012
ASIN:
B008TWMN4M
Published by:
Changeling Press