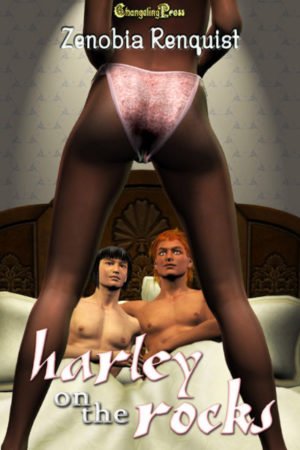 Title:
Harley on the Rocks
Genre:
Contemporary
,
Romance
Themes: Interracial BWWM / BWAM, Threesome/Thrupple MMF, LGBTQ+
Length: 24,260 words / 77 pages

Her heart has a choice between loveless sex or sex-less friends.

Harley's got the hots for her best friends — two gorgeous hunks who're in love with one another. Helping them spice up their sex life can't be such a bad idea — can it? Friends with benefits, nothing more.

Harley's heart has complicated the issue. She wants to be more to Koijirou and Davis than a temporary fling, but she doesn't want to ruin their friendship. If it comes down to a choice between sex and friendship, can she handle the consequences of the choice she makes?
Excerpt
"Hey. I'm in with my boss at the moment. Can you make this quick?"
"That depends on you." He paused. "Do you have me on speaker phone?"
"She sure does," Sean said.
Koi said, "Take me off. I need to talk to you."
"About?" Harley and Sean asked in unison. Harley made the close-your-mouth motion at Sean, who zipped his lips with a grin.
Koi said, "Saturday. It was –"
Harley snatched the phone off of the cradle, terminating speakerphone function, before Koi could say more. "Hi," she said loudly. "Can this wait until my lunch break?"
"No," Sean interrupted. "I want to know more about Saturday. When did you get a boyfriend?"
"He's my neighbor, and we hang out on Saturdays," Harley snapped.
"Suuure. You always this frantic over your neighbors?"
"Sean, shut up."
He raised his hands and motioned for her to continue.
Harley glared at him but returned to her conversation with Koi. "So, we were talking about stuff and nonsense." She needed to keep her side of the conversation innocent sounding.
"Stuff and nonsense, huh?" Koi asked. "I seem to remember Davis and me stuffing your nonsense quite a few times Saturday. I figured we should do it again."
Heat flushed her body at the memory his words invoked. Hentai night usually lasted into the early AM because of the amount of movies watched. She, Davis and Koi had forgotten about the television and spent the time enjoying each other.
When it was over, they fell asleep in a pile on her floor. The guys woke her up before they went back to their apartment. Harley watched them leave, took a shower, then went back to sleep in her bed.
Good dreams filled her Sunday, and she woke up Monday with a smile on her face. Not even the prospect of work made it fade. If every weekend could be like the last one, she'd be the happiest woman in the world.
"Ha!" Sean yelled, clapping his hands. "Whoever you are, keep up the conversation. She just turned bright red." He laughed.
"I did not," Harley whined.
"I bet you did," Koi said in a chuckling voice. "How about it?"
"What?" she asked.
"Davis and I want another hentai night."
"That would be Saturday, like usual." She looked at Sean, then away. The man watched her without shame.
"Sooner than that. Tonight."
She stopped herself from parroting him and asked, "Why?"
"If tonight is no good, we can do it tomorrow night."
"I can't stay out late. I have work in the morning."
Sean said, "Call in sick. You've got the hours."
"Be quiet. What type of boss are you?"
"One who is very intrigued with this new man of yours. And one who's willing to let you fudge a sick day for a good cause."
"There you go," Koi said.
Harley felt the walls getting closer. She should have made Koi wait for her to call him back so they could talk about this without interruption or peanut gallery comments.
"I'm not calling in sick if I'm not sick," Harley said in a firm voice. "And we'll talk about this later, preferably after I get home."
"Fine," both men said in unison.
"Bye, Koi."
"You and Davis can hash it out since I won't be home until late," he rushed out before she hung up the phone.
Harley sighed at that thought. Alone with Davis. Some gut feeling told her they wouldn't be solving the problem with words.
Release Date:
February 04, 2011
ASIN:
B006L9LNT6
Published by:
Changeling Press