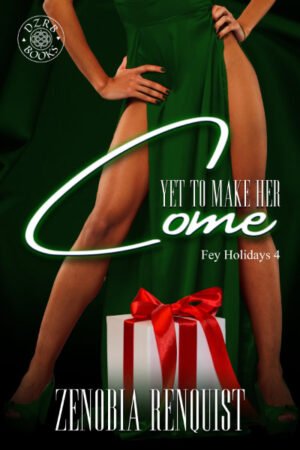 Title:
Yet to Make Her Come
Series:
Fey Holidays #

4
Genre:
Urban Fantasy
Themes: Christmas Romance, Interracial (BWWM), Multicultural, Holiday
Length: 6210 words / 26 pages
PRE-ORDER AVAILABLE
RELEASES 15 DEC 2023

She is better than she thinks and nicer than she believes, but she needs a naughty man like him to make her see it.

Rae is a ghost of Christmas future. Her track record for making people see and turn to the light is unblemished, except for one man. Zane has hit her list for the third and final time. The incentive he wants to be good is one she refuses to give him. This is his final chance to convince her the best is yet to come.

NOTE: This title is previously published as Yet to Come (Red Velvet).
Also in this series:
Release Date:
December 15, 2023
ISBN13:
978-1-63475-075-2 (ebook)
ASIN:
B0CMLR9HFQ
Published by:
DZRB Books