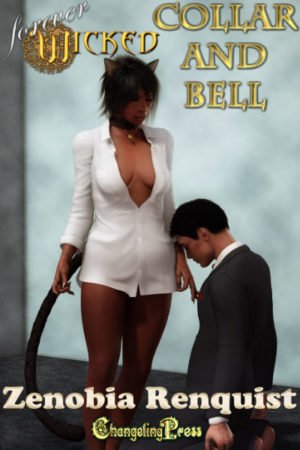 Title:
Collar and Bell (Forever Wicked)
Genre:
Paranormal
,
Romance
Themes: Interracial BWWM, Shifter, BDSM, Femdom
Length: 14,565 words / 52 pages

He wants no greater prize than the love of his sexy kitten.

Eric Miller has a dilemma. He has seven years to make his company succeed so he can sell it and prove to his father he has what it takes to head the family business. Eric's two brothers are out to prove the same. Only one can inherit, and it doesn't look like it'll be Eric until he adopts a little black cat that changes his life.

Simone is willing to help in exchange for his complete obedience. Under her direction, Eric finds his desires shifting from running a company to a certain sex kitten whose purr drives him wild. The deadline is nearing, and Eric's time with Simone is about to end. He plans to find a way to make her stay… even if it's on his knees.
Excerpt
Eric no longer wanted Heather. Life had introduced him to a woman more suited to him that he loved beyond distraction. He did still want Heather's company, but that dream was going down with the ship that was his failing company.
Simone continued glaring at him.
He yelled, "What?"
With a soft growl, Simone left the room.
"Shit." Eric got up and chased after her, following her to the bedroom. "Simone. Simone, wait. I'm sorry. I didn't mean to yell at you. Simone?" He looked around the room but didn't see her. Going to his knees, he looked under the bed.
When he sat back, he startled at the sight of the woman standing on the other side of the bed from him. "Simone?"
Her emerald green eyes flashed with her anger. She had her fists planted against her wide hips with her legs spread apart in a classic pissed-off stance.
Eric knew he'd screwed up when he yelled at her but he couldn't bring himself to be that worried about it since Simone was naked. She'd shifted from cat to human, and clothes didn't come with the shift.
It had surprised the hell out of him the first time she'd done it, after he'd nursed her back to health. He thought he had taken home a normal cat and wound up with a shifter instead. He hadn't even known things like shifters existed.
This particular shifter appeared as though she wanted to sink her claws into him. He swallowed as he stood with his palms out in a placating gesture. "I'm sorry."
"Sorry?" Simone snapped. "You better be more than fucking sorry for talking to me like that. And I know you're not trying to apologize when you aren't even on your knees."
Yup, he'd fucked up. No matter how bad his day was going, he should have never yelled at Simone. He knew better. Or maybe it was because he knew better that he'd done it.
Simone stalked over to him, grabbed his short hair, and yanked him down so he knelt before her. "You can talk to your employees like that. You can talk to your boys like that. You do not talk to me like that."
"Yes, Simone. Sorry."
She gripped his hair harder. "Excuse you."
"I meant to say I understand, and I'm sorry for speaking to you the way I did, Maestra."
"Better." She released his hair. "Take that off and get on the bed."
"Yes, Maestra." Eric waited for Simone to step back before he stood and stripped off his suit down to his boxer briefs, which didn't hide his aroused state. He couldn't help it. Simone was naked, and she was beautiful when she was angry. She was beautiful when she wasn't angry.
His little black kitty turned into a beautiful black woman with emerald eyes, luscious curves, full breasts, and a silky, tight pussy that she wouldn't let him enter until she felt he had earned the right.
He got on the bed, moved to the middle and sat on his knees with his thighs spread and his hands clasped behind his back. "Ready, Maestra."
Release Date:
February 22, 2013
ASIN:
B00CL0JPSU
Published by:
Changeling Press