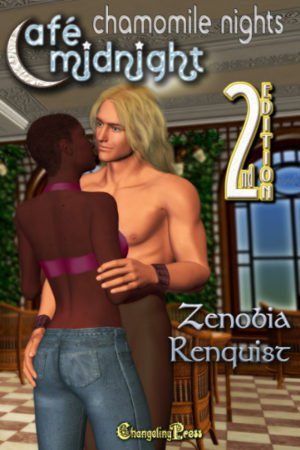 Title:
Chamomile Nights (Café Midnight)
Genre:
Romance
,
Urban Fantasy
Themes: Interracial BWWM, Magic
Length: ?? words / 62 pages

Her waiter serves up a cup of relaxing tea with hot passion on the side.

Patrice is the backbone of her company. She's never met a problem she can't conquer, except her stress. She's stretched to the breaking point until she finds Café Midnight. Her waiter serves up a cup of relaxing tea with hot passion on the side. She's found a way to truly relax, but is she willing to let her sexy waiter serve her at home?
Excerpt
The waiter returned with a drink tray in one hand and a small pastry bag in the other. He set both on the end table beside Patrice's recliner and then held out his hand to her. "May I help you up?"
Chivalry wasn't dead after all. She took his hand and let him pull her to her feet. He put a little too much strength into his pull, and she ended up running into his hard chest. His other arm circled around her waist, holding her against him before she could step back.
"What are you—?"
Her words were cut off when the man's mouth landed on hers. She was too surprised to close her mouth. When the thought finally occurred, his tongue was already past her lips and exploring. He teased her tongue with his.
She found herself returning his kiss without knowing why. She should be smacking him for kissing her. But his kiss felt so nice and soothing, just like the tea she had drunk. Or maybe the tea had calmed her down more than she had realized.
That must be the case because she didn't protest when she felt the man's hand gripping her ass.
He moved forward, urging her back until she landed on the recliner again. Except, it wasn't the same recliner. It was flat like a bed.
The waiter tore open her shirt. That made her breasts bounce and jiggle at being freed so suddenly. He grasped one breast in his hand while he licked the other.
Patrice didn't feel the least bit of embarrassment at having an unknown man touching her so intimately. Weirder still, she didn't mind. What was wrong with her? Was the tea drugged?
The waiter opened her legs wide, held her panties aside, and drove his dick deep into her pussy with one stroke.
She cried out in both pain and pleasure. The man didn't believe in foreplay. Despite that, she wanted more. He felt so hot and full inside her. She hadn't been prepared before but her body adapted quickly. Soon the waiter's dick glided in and out of her.
Her hips moved, meeting the waiter thrust for thrust. She wrapped her arms around his shoulders and held him tight.
The bed knocked against the tiled floor each time the waiter pounded into her. She huffed at the force of his movements and wondered why no one complained. Nothing made sense.
None of the other customers said anything to their display. It was like none of them noticed. That couldn't possibly be true with as much noise as she was making. She tried to look around, but the waiter turned her face back to his and kissed her again.
She succumbed to his kiss the same as before. Soon thoughts of her surroundings vanished. All of her senses were for her partner.
He gripped her hips and surged forward one last time. The motion triggered Patrice's climax. She hugged the waiter tight as she regained her breath.
Once she had calmed down, the waiter pulled away from her and stood. He winked at her. She wanted to ask him why he had done it, but was too caught in the peaceful feelings of the afterglow to summon the energy needed to talk.
He tapped her cup before he walked away. Patrice watched him until he was out of sight then closed her eyes. After that little session, she could sleep for the rest of the day. It didn't even matter that she was in the middle of a coffee shop.
"Miss?"
Patrice's eyes snapped open. She stared at the waiter. He'd returned.
"Yes?"
"I said your order is ready. You seem to have dozed off."
Release Date:
May 13, 2011
ASIN:
B078X1KY4Z
Published by:
Changeling Press